Paint camper bottom & overhangs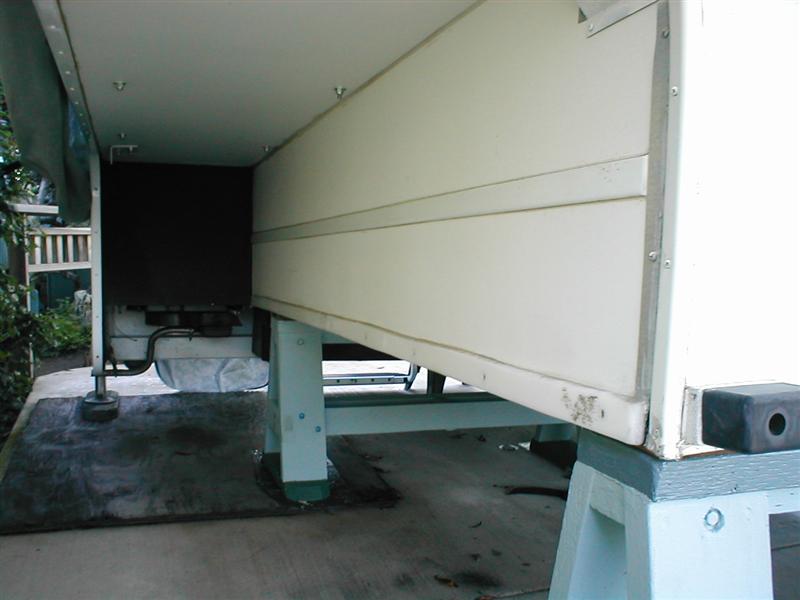 Painted bottom of camper with driveway coating. Neighbor was having a yard sale. He gave me a whole gallon of water based drive way sealer. It was free. My 1st thought was to paint back of camper overhangs. Worked out well, dried hard, flat black and textured. Now I don't get any glare or reflections from the truck tail/brake lights. I also used it and painted the whole bottom of camper. Figured it couldn't hurt.
I have since recoated wing backs when doing other repairs. The original driveway sealer long gone and using Henrys #107. It is messy, takes a few rolled coats before it looks good. I like it for its waterproofing and how well it adheres. I dont think I would use on bottom of camper, doesnt dry as hard as the original stuff I had. However if just 'blacking out' there are several products that would be easier, specifically spray paint. Though partial to Rust-oleum truck bed coating #248914. It dries very hard and textured.
I had already removed bulbs from truck 3rd brake light. At night the whole truck cab would light up. More recently I added a switch to the interior dome light that turns 3rd brake light off.......Taking the bulb out works - remembering to put it back in didn't. Now its just a flick of the switch.
Back to Ourelkhorn Camper Modifications page