Add Camper slides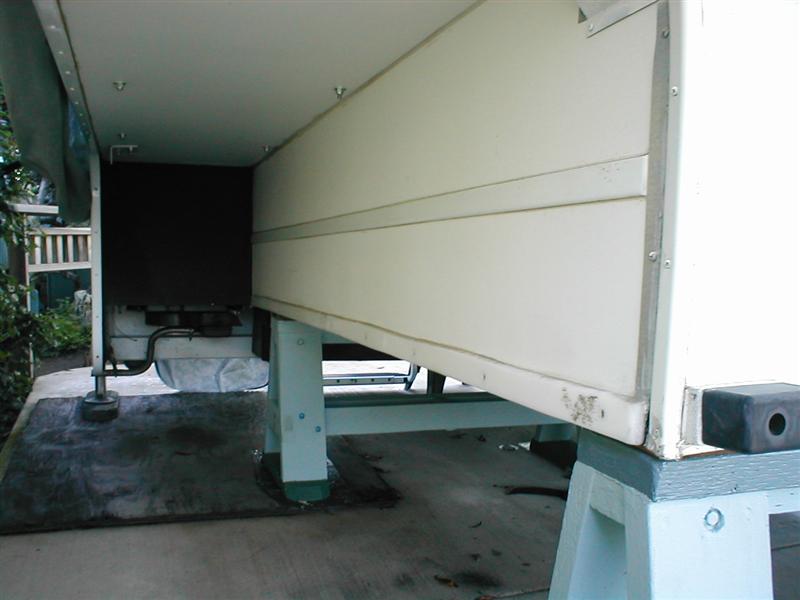 Camper slides. Cut strips of PTF and attached to bottom edge of camper w/counter sunk screws. It's like soft nylon, when I get the camper cocked or against the fender wells it just slides. The bottom edges of our camper has a sheet metal angle with lots of screws-made a mess of the wheel wells prior to lining the bed. The strips let it slide every so smoothly, especially if its real crooked, and gets up against the tail gate opening (the other side of camper has a protrusion that's only a few inches narrower than tailgate opening). After lining truck bed I didn't want to tear up lining. I don't think I've hit the fender wells since i added these strips though I have hit the tail gate opening. Pic also shows blacked out over hang mentioned 07/03.

Made some Stainless steel covers to wrap the tail gate opening pillars. Not so much because of the camper but because I loaded our Jeep trailer this summer into the truck bed. The wheel width on jeep trailer is bout 1/2" wider than tailgate opening, no way were the tires going to squeeze thru with the Durabak lining on the pillars, so added the sst covers to help tires squeeze thru. Used a 36" door kick panel-from work, was free. Got damaged in shipping (small bent corner) vendor sent a new one- this was tossed in recycle bin. Bent over a 2X4, grind & file outer edge to match truck pillar profile. They also help with the camper sliding past. Not the best picture.
Also shown in pic are the under rail lights added. Was a string of trailer clearance lights, 12 lights, 6 lights per side. Think I got for like 12 bucks @auto zone. They are great for loading stuff in the truck at night-especially the camper. Verses using the trucks cab mounted light which shines as much in your eyes when loading stuff or useless when loading the camper. I've a switch I added to the trucks interior dome light to turn off stock bed light. A toggle switch in dash for new under rail bead lights.
In the front corners I added 1/4" aluminum angle under the factory cargo tie downs. This helps keep them from flexing the sheet metal when seriously tieing something down (or winching jeep trailer into bed).
Back to our F250 truck page
Back to Ourelkhorn Camper Modifications page